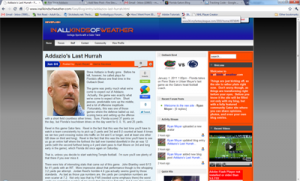 I've enjoyed my time sharing my opinions with all of you on this site this year.  Really, it has kept me sane through this whole Addazio debacle.
Now that Addazio's gone, I'd still like to keep things going.  For that, I've created inallkindsofweather.com.  I will continue blogging there, and since I know you all love to share your opinions as well I'm working to set it up to make that easy for you guys as well.
The site is up, and content is going up, but it will be continually updated over the next few weeks with new features and layout changes while I finish things up, so bear with me if a menu item changes on you or something like that, and let me know of any problems you're having.
I've got my review of Addazio's last game up there, and I'll be giving my view on the Gators new coordinators tomorrow as well as my thoughts on our QB situation soon after that.
See you on the other side…