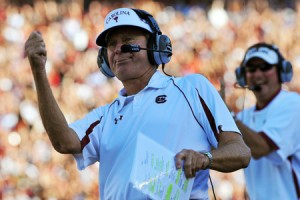 A few weeks ago, the UAA was asked what they think of this website, firesteveaddazio.com.  They responded with the following:
"People who are making comments about Steve, they are based on an emotional reaction," a spokesman said. "They don't know Steve or how much passion he has. It's an uneducated opinion."
Last week, the majority of the Gatorsports.com writers wrote that after the Vandy game, the offense was fixed.  Everything was better now.  Steve Addazio held his typical Tuesday press conference with the same amount of vigorous hand waving as usual, but also with an aura of smugness.  He almost had an attitude of "I told you I could make this work".
Meanwhile, here on this site, I wrote that our problems with not fixed.  I predicted the exact outcome we got in the South Carolina game.
South Carolina is solid against the run and weak against the pass.  Do I expect Addazio to exploit that this week?  No.  He hasn't shown an ability to exploit a defense's weakness in the past, and his stubborn attitude doesn't leave me with any reason to believe he will ever learn to adapt.  Without the trick plays, and with Addazio looking at this game as an important one, I'm predicting Addazio will curl back up into his conservative ball and we'll all be yelling about South Carolina's weak secondary as Addazio tries to beat them two yards at a time.  I'd love to be wrong, but I just have this sinking feeling that we're in for a let-down, and within a few weeks we're going to be right back where we were after the MSU game.
By and large, the readers of this site agreed.  You guys littered the comments field with more examples of how the Vanderbilt game was a mirage, and how the issues still remained.  Gatorsports and the UAA were wrong, and you were right.  So I ask the UAA now, who carries the uneducated opinion?
But there's no sense stopping there.  Let's take a look at what went wrong in the South Carolina game.  What were our problems?
We weren't able to adjust.  South Carolina has a strong front seven, and a weak secondary, yet we didn't throw a pass downfield until there were 7 minutes left in the game and things were all but over.  Our undeveloped talent was not used to their strengths as we continued to see guys like Deonte Thompson run routes that would be better suited to a possession receiver, and guys like Andre Debose remain uninvolved with the offense .  The pass routes once again looked as if they had no real purpose to them, almost as if every play was just a jumble of guys running square in routes.  I mean really, do we have any other pass play in the playbook other than a guy running a 3 yard drag underneath another guy running a 10 yard in route?  Wait, I forgot, on 3rd and 10 we also like to mix in 3 yard hitches and a few screen passes.
Worst of all, we were as predictable as ever.  Burton and Reed came in to run the ball up the middle (and when Burton lined up at FB it was a play action pass into the flats).  Addazio's extremely conservative gameplan prevented them from throwing the ball, and allowed the defense to once again play aggressively against our offense, bottling everything up into a confined area within a few yards of the line of scrimmage.
That's funny, because I could have sworn I've heard about all those problems before.  Oh, that's right, I wrote about them all more than two months ago, and have written about them many times since then.  Other than the coach's unwillingness to acknowledge that there is a problem, that is probably the most frustrating thing.  These aren't new issues.  These are problems that have been there all year, problems that are entirely fixable, but problems that have not been adjusted at all.
Savvy football fans noticed the problem with Addazio last year.  Within a game or two into this season the problems were obvious to everyone.  Yet here we are, 9 weeks later, and the people in charge are still surprised by things that we've been talking about since day 1 of this season.  Again, who's uneducated?
This season is lost, and has been for a while.  We all knew that when Addazio remained on the staff after the MSU game.  But the scary thing now is what all this does for next season.  It's too late to see what Loeffler and Azzanni are made of as an OC on a trial run, so now even if we ditch Addazio we're left with question marks at OC again entering next year.  Even worse is what this season may do to recruiting.  There were a whopping 35 recruits in attendance at the South Carolina game, and it was by far our biggest game of the season in terms of recruits on site.  Having them bear witness to an a team that couldn't match the production of the special team's opening kickoff return in either points or yardage until well into the 4th quarter can not have been a good selling point.
Even Pat Dooley, who called me out earlier in the year, has come around and called for Addazio's head.  It's just too bad that it took him so long, and he wasn't ahead of the game like many of the users of this site, or perhaps we could have corrected things before the losses piled up (which was my first goal in creating this site), rather than after.