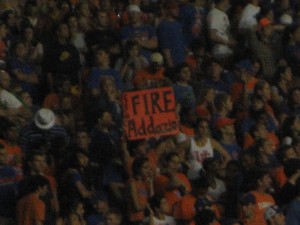 I feel like I've been a pretty rational person throughout the life of this site.  As Addazio has run our offense and our program into the ground, I have sat back and calmly dictated the mistakes he was making from a football standpoint.  I'm done with that.  Nothing has changed, nothing has gotten better, and I'm just going to come right out and say it.
Steve Addazio is selfish.
There, I said it.  Addazio has to know that he's a bad offensive coordinator.  No rational person could have watched this team over the last several months and think otherwise.  We have loads of talented players on offense.  NFL players that are going to miss out on millions of dollars because of the way Addazio misuses them and fails to help them translate their athleticism into football talent.  Carl Moore is an NFL wide receiver, but no one in the NFL will ever know it because he's not given a chance.  Yet Addazio is content to go on, collecting his (probably large) paycheck while the fans and the players suffer at the hands of his ineptitude.
Steve Addazio, we as Gator nation ask you – no, beg you – to step down from your duties as offensive coordinator.  Urban is your friend, don't put him in the position of having to fire his friend.  At this point as a perfectly sane individual you HAVE to realize that you can't get the job done as offensive coordinator.  Every day you stay in that position is just one day closer to you getting fired outright.  If you step down now, you can save some face and keep your job as offensive line coach.  You would finally get to do something that you're comfortable with again, and the fans and players would be spared your inadequacies as a play-caller.  It's a win-win for everyone involved.
So on to the LSU game.  I could break down this game like I usually do.  I could go on about the same tired issues that our offense continues to have with no signs of change.  I could go on about how after a huge stop by our defense and a bad punt, with the crowd finally back in the game, our offense responds by running yet another bubble screen for a 4 yard loss to take them right back out of it.  I could talk about how we still refuse to spread the field vertically and keep the defense (who was unabashedly stacking the box while our receivers sat 1 on 1 outside) honest.  I could go on about how the Brantley "option" (AKA Brantley toss) play got demolished by a real defense yet again.  I could tell you that Mike "grades out as a champion every week" Pouncey once again got manhandled at center.   But you know what?  We've been through all this before.  It's the same stuff as it's always been.  Every prediction and every criticism that we've made on this site since day one has been correct, and none of it has changed.
The really sad thing about this game is that some people are going to ignore how poorly the offense played because of how the game ended (with our defense getting beat).  Let's be real here people, our defense never should have been in that position, and never would have been if our offense could put together more than one real scoring drive a game.  Our four scores tonight came off of two turnovers forced by the defense inside the LSU 20, a kickoff return for a touchdown, and the one good drive at the end of the game.  60 minutes, one good scoring drive.  That does not win you football games, and it never will.  I said at the beginning of the year that the offense was going to have to contribute (rather than just soley relying on the defense) once we got into the meat of our schedule.  They haven't, and the outcomes have been just as we expected.
And you know what the biggest slap in the face was with all of this?  We had the ball, 1st and 10, with 3 minutes left in the half.  After running our standard HB dive for 2 yards, LSU called a timeout to stop the clock.  That's right, they were so confident that our offense couldn't pick up a first down that with THREE MINUTES left in the half they were willing to call timeouts to stop the clock.  They disrespected us like that, and what did we do to make them pay?  Almost get a safety on a horrible option play call that got mauled in the backfield for a near safety as Champion Pouncey laid on the ground looking backwards.
The crowd was great tonight, as loud as ever.  Everyone wanted a win.  And you know, people in the stands (though still not in the media) are starting to recognize more and more what we've all been saying on this website for the last few months.  In the 4th quarter, the offense was boo'ed multiple times after questionable playcalls.  It's a good thing that our offensive talent bailed Addazio out with that long catch and run to Moore after Addazio had backed them into a corner on 3rd and 8 after two extremely predictable playcalls on 1st and 2nd down.
I also was pleased to look around the stadium and see the sign pictured above.  The media, if they would even recognize it, would say that that guy is "not a true fan".  I disagree.  That guy is a hero, because he's willing to stand up and say what they're not.  And once again, listening to the post game presser on the drive home, there was no mention made of the problems we have with our offensive coordinator.
The first step to fixing a problem is admitting you have it.  The fans have taken that step.  The coaches and the media have not.  We have to spread the word.  Our NC dreams are likely gone but we can still win the SEC.  But we will never win it with Addazio, so hit up that Twitter, hit up Facebook, hit up campus with fliers, and do whatever you have to to spread the word.  Save Gator Football.