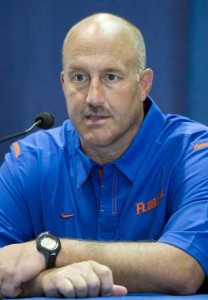 Steve Addazio is one of the worst offensive coordinators in college football, and he has no business being the offensive coordinator of our beloved Florida Gators.  Since Addazio took over for Dan Mullen in 2009, the Florida offense has gone down the drain.
In 2009, Addazio was able to hide how bad his offense was behind the great defense of the Gators, which kept them winning games.  Addazio took an offense with one of the greatest players in college football history, and an offense that was oozing with talent beyond that, and turned them into a mediocre offense that could not maintain a drive consistently.  The team lost Louis Murphy and Percy Harvin from 2008, but the massive dropoff in offensive production is much more a result of the switch from Mullen to Addazio than it is the downgrades at wide receiver.  Addazio sticks with his gameplan no matter how ineffective it is, often continuing to force HB dives with 110lb running backs and weak screen passes as the defense continues to eat them up, and refuses to try and stretch the field vertically when necessary.
In 2010, things appear not only to not have gotten any better, but actually to have gotten much worse.  Addazio's offense put up 26 total yards in the first 3 quarters of the 2010 opener against Miami of Ohio, a team that was 1-11 last year.  It was truely one of, if not THE most embarrassing offense performance in the history of Florida football.  Addazio needs to go, yet somehow his ineptitude remains hidden to the media.  It is up to us to raise awareness to make a change in Gainesville, and save this season of Florida football before it is too late.