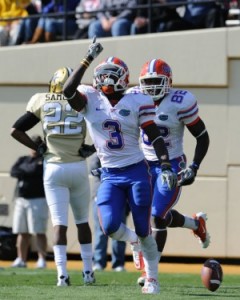 Amazing what happens when you threaten a team downfield, isn't it?
The Gators took a few more shots downfield this week against Vandy, and once again it paid off in spades.  I don't know why it took two months for Addazio (if he even was the one calling those plays) to figure it out, but at least there has been progression in that category.  Once again, we saw our playmakers making plays when given the opportunity to do it.  On Jordan Reed's long touchdown pass to Deonte Thompson, Thompson was fairly well covered, but Reed laid a perfect ball in there over the outside shoulder and Thompson made a nice catch.  On Brantley's long pass to Rainey, while Rainey had his defender beat, the ball was underthrown and Rainey still made a great catch despite early contact from the defender.  This goes back to what I've been saying all year.  These guys aren't possession receivers, they're playmakers, so we need to put them in positions to make plays.  If this Vandy game proved anything, it proved that Addazio and not the players has been the biggest problem all year long.  When given a chance, these guys can make good things happen.
The disconcerting thing about those plays was that they came on trick plays.  I still think Addazio has it stuck in his head that he has to do something tricky to throw the ball vertically.  That's not the case.  Those guys were covered, but they made a play on the ball (or in Reed's case, he made a great throw).  We can do this on any play where we have single coverage on the outside.
Did anyone else notice how easily everything else came after that?  The offense looked like the offense has all year in the 1st quarter.  Horrible drives ending in 3 and outs all 1st quarter long.  Then we hit a couple of big plays downfield and everything opened up underneath.  You know, kind of like I've been saying would happen all year if we actually some fear of a vertical pass into the opponent.
But let's keep everything in perspective.  This was Vanderbilt, and four of our touchdowns were basically the result of the defense and special teams.  The Gatorsports writers seem to think that everything is fixed with the offense.  The last time they said that was after the Kentucky game, and while things have certainly improved since then, they aren't nearly where they need to be and Addazio is still the biggest obstacle holding this team back.  Zach Azzanni was the one who put our recent hurry up offense into place.  Is it just me, or doesn't it seem a little off that we have to go to our wide receivers coach to make adjustments to the offense?
South Carolina is solid against the run and weak against the pass.  Do I expect Addazio to exploit that this week?  No.  He hasn't shown an ability to exploit a defense's weakness in the past, and his stubborn attitude doesn't leave me with any reason to believe he will ever learn to adapt.  Without the trick plays, and with Addazio looking at this game as an important one, I'm predicting Addazio will curl back up into his conservative ball and we'll all be yelling about South Carolina's weak secondary as Addazio tries to beat them two yards at a time.  I'd love to be wrong, but I just have this sinking feeling that we're in for a let-down, and within a few weeks we're going to be right back where we were after the MSU game.  The good news is that, as usual, South Carolina has completely fallen apart in the second half of the season.  They are not a very good team right now, and their offense is prone to mistakes that I feel our ball hawking defense can capitalize on.
Before I sign off for the day, I wanted to touch on one last thing, the quarterback situation.  Rotating quarterbacks are always a sign of a struggling offense.  Typically, it teases people with sparks when it is first implemented, but always regresses back to the same struggling offense as before.  If we're going to stick with Addazio in the short term (ugh), then we need to just go ahead and make the change to Jordan Reed.  I do not think Jordan Reed is the savior.  Even in the Vandy game, he cooled off pretty quickly in the second half, and when a team has an entire week to actually prepare for him they will be able to do a much better job against him (not to mention, again, this was Vandy we're talking about here).  Still, Brantley is just a bad fit for this offense.  I like Brantley, but for his own sake, if we decide to stick with this offense going forward then I hope he transfers in the offseason.  He has some issues as a quarterback, but I still believe he is a good player.  He will never realize his potential in this offense though, and it would be better for both the Gators and for John Brantley if he were to move on, a la Ryan Mallet and Michigan.
Personally, I would prefer we change the offense to suit Brantley and keep him as our guy, but seeing as how I don't believe the current staff has any intention of building an offense to suit Brantley, a mutual breakup seems to be the best option.