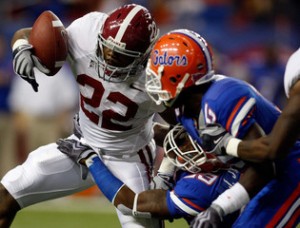 As Gators, we find ourselves in an interesting position this week heading into the Alabama game.  A position we haven't been in in quite a while.  That is, for the first time in a long time, we've got nothing to lose.
For the first time in 40 games, the Gators are underdogs (and 9 point dogs at that).  Nobody expects us to beat Alabama on Saturday, and even if we do lose, it won't feel like the end of our season like it normally does.  Realistically, Alabama will probably win the SEC West, meaning to go undefeated this year we would have to beat them twice.  As unlikely as that is to happen, so long as we win the one that matters, it should be just as good.  I know everyone feels like this is the year that Boise or TCU are going to sneak into the title game, but let's be reasonable here, with the SEC dominating the last 4 NC games there is no way that a 1-loss SEC champion coming off a win against the #1 team in the country is going to be snubbed in favor of one of those schools.  Even if Florida falls to Bama on Saturday, if we can win out the rest of the way (no easy task) and force a rematch, it may not end up mattering in the end.
But why let it come to that?  We want to win and make it easy.  Plus, I hate Alabama and Saban too much to let them feel like they've got our number.  So here are the keys to Florida pulling off the upset on Saturday.
Play like you've got nothing to lose
I just went on about how we have nothing to lose in this game, and we need to play like it.  If our first offensive play of this game isn't a play action pass downfield then we'll be sending Bama the wrong message.  Let's show them that we're not scared of them.  Let's show them that we believe in Brantley.  And quite frankly, let's find out if we should believe in Brantley.  Now is the time to see what our offense can do when we open it up and take some shots.
There have been reports that part of the reason the Gators have been taking fewer shots downfield is because Brantley has struggled with his downfield accuracy.  This is the perfect opportunity to let him try and hit a few passes and build that confidence up to the level we're going to need it to be at.   Let's take a shot.  Let's take a shot early.
Our defense is great because they're not scared of anyone.  They're aggressive.  It's time for the offense to come into a game with that same demeanor.  Alabama is going to be looking to stack the box and smother the run.  Let's get them out of that early.
Maintain Balance and Make Adjustments
I know, this sounds totally in contradiction of what I posted above, right?  I want to be clear about what I was saying above.  We want to take some shots downfield early.  That doesn't mean we fall back into Addazio inadequacy #1, and fail to adjust from there for the rest of the game.  That is what happened during last year's SEC Championship game.  Addazio figured that Alabama would be looking to stop the run so we were going to catch them offguard by attacking through the air.  And when that didn't work…we just kept doing the same thing all game long and never made any adjustments.
Be Less Predictable
Addazio loves to stay on schedule.  1st and 10 becomes 2nd and 6.  2nd and 6 becomes 3rd and 3.  3rd and 3 becomes 1st and 10.  He'd love to do that all the way up the field.  And in a perfect world, it would be great.  However, a struggling offense going up against one of the nation's best defenses is not a perfect world.  When Addazio is faced with 2nd and 10 he always chooses to run, or run some sort of short, safe play like a screen to pick up a few yards and set up a manageable 3rd down.  If I know this, and you know this, then you can bet that Alabama knows this.
At some point, we're going to have to actually pick up a 1st down on 2nd and 10 rather than just try and set up a manageable 3rd down on 2nd and 10.  Against Kentucky we could just slam it up the middle on 2nd and 10 and set up a nice 3rd and 3.  Against Alabama, if we just keep slamming it up the middle on 2nd and 10 all we're going to do is end up with a bunch of 3rd and 9 plays.
Don't Force Demps in There
I won't hide the fact that I would prefer if Demps were our change of pace back all the time, and Moody/Gillislee were our workhorses.  But even if you're a believer in the Demps "slam him up the middle for 1 yard 80 times and eventually we'll break a 70 yarder against one of our weaker opponents" methodology, you still can't deny that Demps with a bruised foot isn't an ideal situation.
Demps is a 185lb speed back, he's not moving any piles.  A small speed back with a bum wheel is just a small back.  Reports are that they're going to try and play Demps this weekend, and I think that's a mistake if he's not completely healthy.  If you want to use him as a decoy a few times early on, then fine, but it won't be long before Alabama can see how healthy or unhealthy he is as well.
Burton Must Pass
I'm going to operate under the assumption that Trey Burton is going to be a big part of our redzone offense going forward.  I'm also going to operate under the assumption that Alabama's coaches are smart enough to tell their DE's not to crash on the HB when Burton is in the game, running a QB read play.  Kentucky's defenders and coaches were inbred enough the DEs continued to crash on the HB when Burton was in the game.  Against Bama, they're going to be targeting Burton, and we're going to have to mix it up both by Burton making the right read, and by us letting Burton keep them honest with a few pass plays.