In the days since Urban Meyer's resignation announcement, a lot of names have been flying around in the search of his replacement.  I figured I'd go ahead and chime in with my two cents on who I'd like to see as the next Florida Gators head coach.  Below, I've ranked some of the potential candidates using a complex mathematical algorithm that intricately factors in the pros and cons of each coach, as well as the likelihood that they would actually take the job if they were offered it so you'll finally have a solid mathematical backing to your choices when you're debating them at the bar or on Party poker.  There's not going to be any new names here, just my own personal ranking of them.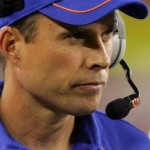 1. Chris Petersen
Pros: I was actually surprised how rarely Petersen's name was mentioned early on in the hunt (some lists posted on the major Gator sites left his name off entirely), though his name seems to have picked up some steam today.  When Urban resigned and I started thinking about its effects on the program, the first thought that came to my mind was "well, at least Addazio will likely finally be gone."  The second thing was "I hope Foley is making a phone call to Boise right now".
I'll be honest, I'm over the spread option.  I'll take any offense that wins us games, don't get me wrong, but I'm ready to see our receivers running real routes like corners and posts again.  Petersen's offense is more traditional than Meyer's, without being too cookie cutter for defenses to figure out easily.  Petersen creates big, physical teams that push people around.  Best of all, Petersen brings that same fire with him that Urban used to have, and that he was without this past year.  He'll do what it takes to win, and he runs his program aggressively.
Cons: The biggest question surrounding Petersen is whether or not he has the ability to recruit in a major conference like the SEC.  Personally, I think he'll be fine on that front.  Those questions are no different than they were for Urban Meyer coming out of Utah, and Petersen carries that same confident swagger that makes great recruiters.
Likelihood to Take the Job: If Chris Petersen were offered the University of Florida head coaching job, I think he would take it.  Some argue that Petersen would rather stick around in Boise where he's living the good life than head to a big school where he would be surrounded by nothing but pressure.  We've heard that argument a million times about different coaches and it never holds up for long.  Petersen has finished undefeated 3 times and never played for a national title.  Had they held on against Nevada this year, they would have missed out again.  One of the reasons Urban Meyer cited wanting to go to a big school six years ago was because he had just finished undefeated with Utah and missed the big game.  I have a hard time believing that a guy like Chris Petersen doesn't feel the same way.  He's already proven he can build a program up for nothing.  Now it's time for some rings.
Besides, look how well staying put at a smaller school did for Greg Schiano.  Once the team slips even a little, you disappear.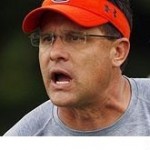 2. Gus Mahlzan
Pros: Like Urban, Mahlzan has been extremely successful at every level.  When he was at Arkansas, they had their best offense and most success in recent memory.  When he was at Tulsa, they had their best offense and most success in recent memory.  When he was at Auburn, they had their best offense and most success in recent memory.  You get the the point.  He was even wildly successful in high school.  In my opinion, Mahlzan is going to be the next hot shot young head coach when he gets a shot at the gig.  I just hope it's not somewhere else.
He does run the spread, but he runs an exciting version of it, not the boring plod that Addazio brings us.  And as far as innovation goes, c'mon, this is the guy who really made the Wildcat take off and who has had an influence even on NFL coaches.
Cons: Mahlzan has never been a head coach at the college level, so he's a bit more of a risk than the other, more established guys.  We don't know how he would handle a whole program.  He also has no ties to Florida.  However, this being his first college coaching gig may actually give us a leg up on holding onto him for a long time if he is successful.
Likelihood to Take the Job: I think that if Mahlzan were offered the UF head coaching job after the NC game is over, he would accept it that day.  He doesn't really have any ties to Auburn and Gene Chizik is not going anywhere for a while, so his ability to move up there is nil.  Every great offensive coordinator wants to be a head coach.  The pay is better, the fame is better, and the control is better.  Someone is going to give him a shot in the near future, and he's going to take it.  Of all the names being tossed around, I believe he is the most likely to accept an offer from us.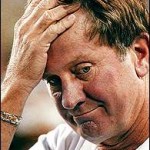 3. Steve Spurrier
Pros: C'mon, it's Steve Spurrier.  He's a Gator through and through, and he runs an offense that can utilize the talent we bring in every year at wide receiver.  He took the Gators to greatness, and while he never achieved the same at South Carolina, he did bring a historically awful program to heights it never dreamed of.
Cons: One has to wonder if a large part of Spurrier's success at Florida was due to his, at the time, innovative offense being something that defensive coordinators couldn't figure out.  It's been 20 years since they first saw it, and it would seem that defensive coordinators have figured out the fun and gun.  A pass first offense isn't anything unusual anymore.  Defenses are ready for it.  Spurrier has tried to adapt at South Carolina, implementing pieces of the spread offense, and South Carolina seems to have plateaued.
Likelihood to Take the Job: To get Spurrier to even consider taking the job back at Florida, the situation would have to be handled very delicately.  No interviews or anything like that, just an offer and an admission that we want him.  Foley would need to be careful to feed his ego as much as possible.  If Foley were to handle it like that, I'd put the chances of Spurrier taking the job at about 40%.  You could kind of see it in his eyes after South Carolina shalacked us in the swamp this year.  He wasn't quite as happy as he should have been after a big win like that.  You have to wonder how much more a big win would have meant to him if it happened on the other sideline.
The Other Guys (guys that didn't make my top 3, but that I want to comment on)
Do Not Want: Jim Harbaugh
Let's be honest here.  3-5 years from now, does anyone believe that Jim Harbaugh won't be coaching in the NFL?  With Harbaugh, there are two scenarios that could possibly play out at Florida.   He could be successful, in which case he'd be gone for the NFL before long, or he could be unsuccessful, which means we're losing.  Neither one is good for us long term.
Not Going to Take the Job: Bob Stoops, Chip Kelly, Jon Gruden
We're going to have to be realistic about this.  Some of the guys we're after are just not going to take the job.  Jon Gruden will be coaching in the NFL in two months.  Chip Kelly has no reason to leave Oregon, where everyone loves him and where he can use a wealthy and top end college program to coast through a much weaker conference than the SEC.  I think Stoops would be the most likely to leave of this group, even though he has turned us (and many other major college programs) down in the past as things have turned slightly sour in Norman lately, and people are starting to question him a little bit there.  Still though, I would say even Stoops is an extreme longshot.
The Favorite: Dan Mullen
Dan Mullen seems to be the leading candidate for the job right now.  I think if any of us had to lay down our life's savings on predicting who the next Gators coach will be, we'd most likely bet on Mullen.
I'm not entirely against Mullen getting the job, but I'm not exactly in favor of it either.  I would probably rank him around 5th or 6th on my list.  The best thing that ever happened to Dan Mullen's reputation was Steve Addazio replacing him.  Addazio is so bad that it makes us yearn for a guy that frankly had his fair share of troubles in the same spot.  To be fair, it was nowhere near on the level of Addazio, and he didn't have trouble with the most basic fundamentals of offense like Addazio does, and he deserves a lot of credit for that 2007 offense which was one of our best ever.  Still, there were times where his conservative nature came out (which we saw again this year when he played against Florida) that were frustrating.
I want a cut throat, go-getter head coach.  While I wouldn't be upset with the hiring of Mullen, I certainly wouldn't be nearly as excited as I would with some of the other names being thrown around.