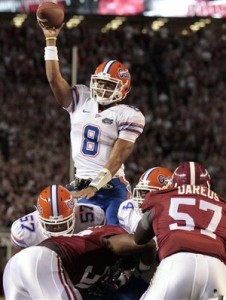 How many points did the player's respect for Steve Addazio get us last night against Alabama?
All throughout the last two years of watching Addazio try and call plays, pundits have backed Addazio with two main arguments.  The first is that he is a good guy who is well loved and respected by the players and the rest of the staff.  Of course, Ron Zook was well loved and respected as well, and we saw how much that actually translates to the field with 15 losses over three seasons under Zook.  Call me crazy, but I'd rather the guy calling our plays be good at calling plays than be a good guy to have a beer with.
The other major argument that people have made is that the Gators keep winning with Addazio calling their plays, and winning is all that matters.  In fact, after the Miami OH game when I launched this site, Gainesville Sun columnist Pat Dooley publicly blasted the site and made the same argument, stating
"With Addazio as coordinator, Florida is now 14-1. I think that has to count for something.  Let's see what happens the rest of the way. Off the ledge, people. Like I've said a million times, nobody suffers winning like Gator fans."
We've seen what has happened now Dooley, so what say you now?
Simply put, Florida has won as much as they have in the last two years in spite of Addazio, not because of him.  Our defense wins us 11 games a year by themselves.  All our offense has had to do is win us the other one, and even with immense amounts of talent Addazio hasn't even come close to doing that.
The short-sighted see ugly wins against bad teams and say a win is a win.  Those of us with foresight and a shred of football knowledge realize that just because running the ball up the middle 30 times works against Kentucky, doesn't mean it will work against a real defense.  Those of us with foresight realize that our defense can't hold our opponents to a couple scores and set up our offense with 5 drives that start inside their opponent's 40 yard line every week, and realize that eventually our offense will actually have to do something themselves.  Those of us with foresight realize that it takes an offense AND a defense to win a national championship, and not just one of them.  Those of us with foresight realize that national championship windows are small in college football, and that every week we stick with Addazio is just another week wasted in our window.
So let's talk about the game.  You all saw it, you all know it was bad.  But here are some more things to remind you just how bad it was.  Addazio had a great idea this week, something that was really going to catch Bama off guard and keep our offense moving.  That exciting new wrinkle was….John Brantley running the option?  Really, that was it, that was the bright idea.  So, even ignoring the fact that any one of us could have told him ahead of time that our dropback passer running the option was not going to befuddle the top defense in the nation, things were worsened when Addazio fell into Addazio pitfall #1 and continued going back to the play no matter how many times it got stuffed.
The really remarkable thing about this game however is that, while our defense certainly had thier fair share of struggles early on as well, even if they had come out and played the best game of their lives we still would have lost.  Why?  Because the offense actually scored negative points, in a manner of speaking.  The offense gave up 7 points on an interception return for a touchdown, and only put up 6 points of their own to counter it.  They were actually outscored by the Alabama defense 7-6, and that's not even accounting for the other interception inside our own 20 that led to points.
Alabama's offense could have come out and taken a knee on every play of the game and still won.  And in the 2nd half, that's essentially what they did as our defense pitched a shutout and held Bama to well under 100 yards of total offense, yet still the halftime deficit only grew.
So what went so wrong that our offense couldn't even outscore themselves?  To answer that, let's take a look back to the keys to the game I posted lasted week and see how many of them Addazio followed.
Play like you've got nothing to lose
My main contention here was that Florida needed to take a few shots early on to loosen up the Alabama defense and prevent them from stacking the box and playing aggressively.  Not only did Addazio fail to take any shots downfield early on, he failed to take any shots downfield over the course of the entire game.  It's bizarre really, how can you be down in a game 24-0 in the 2nd quarter, and spend the entire second half down by 3 or 4 scores, and still never take a single shot downfield.  The closest the Gators came was a ~20 yard pass into the endzone intended for Moore.
This was Florida's greatest fault, as Alabama's defense quickly adjusted to our conservative offense and began to play extremely aggressively.  So aggressively that both of our brutal interceptions came on check downs, which are supposed to be safe passes.  Alabama was so confident that we weren't going to get vertical that even when leading by several scores, their players were jumping short checkdown routes.  That can't happen, and if it does we've got to make them pay for it.
Perhaps even more frustrating was watching Florida throw a couple quick 4 yard hitches and another quick 2 yard drag on 3rd and 10 plays.  Brutal to watch, but I'm sure you all know that.
Make Adjustments
I don't know why I even bothered listing this, since we all knew Addazio wouldn't do it.  In fact, I'm not convinced that Addazio knows the definition of the word "adjustment".  Florida stuck with their gameplay of HB dives and short passes no matter how futile it proved to be against the Alabama defense, and rode it all the way to a blowout loss.
Be Less Predictable
Raise your hand if you successfully predicted exactly what play Florida was going to run prior to the snap of many of their plays last night.  Ok, you all look pretty goofy right now, reading this with one of your hands in the air, so go ahead and put them back down.
I said that Addazio was going to have to get over his "stay on schedule" mentality where 2nd and 10 was an automatic run down to set up a more manageable 3rd down.  I said that I feared Addazio was too confident in that mentality after we were consistently able to run for 8 yards on 2nd and 10 against Kentucky.  I said it wouldn't work that way against Alabama and that we'd have to throw in those situations to set up manageable 3rd downs.
So what happened?  Exactly that.  2nd and 10 continued to be an automatic run play, and just as I feared against Alabama it set up 3rd and 9s rather than 3rd and 2s.  Our longest run on a 2nd and 10 play was 4 yards, and all the rest either resulted in a loss or a 1 or 2 yard gain.  It wasn't until the game got really out of hand that we finally started to mix things up a bit on 2nd and long, and by then it was way too late, and we were dealing with way too many other Addazio inadequacies for it to matter.
So, here we are.  We're 4-1, and by a miracle of the schedule things are actually set up that even with this blowout loss we could still win the national championship this year if we can win out.  But we can't do it with Addazio calling the plays and running the offense.  I told you that with this offense we could not contend with top teams more than a month ago and some of you said "let's wait and see".  Now you've seen, and by a miracle it's still not too late, but the time for action is now.
We could have spent the weeks against USF, Kentucky, and Tennessee with a new play caller working out the kinks so we were ready for the meat of our schedule, but instead we wasted them praying that a guy we all knew was a dud would miraculously turn things around.  Now, our only option is to throw someone else into the fire and hope it sticks.  It may sound rash, and it may sound like it can't work, but the alternative, to let Addazio continue running this team into the ground, is certainly not a better alternative.
We no longer have any margain for error.  If Addazio retains his play calling duties, then the season is over.
And really, what has Addazio ever done to qualify him to call plays?  Prior to taking over for Mullen last year Addazio hadn't called a play since 1994…in high school.  His resume was as a good offensive line coach.  He can coach up a bunch of linemen and run them through a practice, how does that qualify a person to call plays?  Florida was hoping that with the offense already set up by Mullen, a guy with little experience calling plays could step in and pick things up where they had left off.  Clearly, that is not the case, so it's time to get someone who is actually qualified running an offense to run the offense.