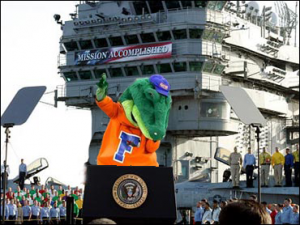 After two slow, plodding years our salvation has finally, officially, arrived.  For days rumors swirled on Texas blogs that Addazio was inbound as their new O-line coach, but in the end he has accepted the head coaching job at the University of Temple, finally ridding of us of his inept offensive scheme once and for all.  The writing was pretty much on the wall for Addazio's tenure as our OC, but the guy had already defied all odds to somehow hold onto his job as long as he did so it's nice to finally have something official out there.  Normally, I would wish a Gator coach nothing but the best in moving on, but I have not even the smallest hint of love left for the selfish Addazio.
Addazio's end in Gainesville may not have ended with the embarrassing firing or demotion that we all expected, but gone is gone.  Really though, it is quite the commentary on some of the people in high places that a guy THIS bad at his job actually ends up with what some may view as a promotion.  Who knows, maybe if Addazio hires someone else to run the offense at Temple he can end up being a good hire in the same way that Ron Zook was a decent hire for Illinois.  That is, he's known as a great recruiter, so maybe an influx of some talent alone can carry the team to higher levels in spite of anything else.  Though if he plans on running the offense, which he couldn't do adequately (or at all) even with Florida's talent pool, then Temple fans may replace this website with their own in a very short time.  I guess his only saving grace could be that Mid-American defensive coordinators aren't smart enough to know fundamental concepts like stacking the line and playing aggressively against a guy who never tries to gain more than 4 yards on a single play.  After all, Addazio has proven that knowing the basics or running a unit is not a requirement to get a coordinator gig.  And really, am I the only one out there that has started to think that maybe the guys making these decisions aren't as smart as we all thought they were?
I've gotten quite a few emails from Temple fans asking what to expect out of Addazio.  If he's planning on running the offense at Temple then all you Temple fans need to do is tune in at 11am on January 1st and imagine that Gator offense being run by Temple players and you'll have your frightening answer.
Even though enjoying Gator football has been tough this year, I have enjoyed having the opportunity to share my opinions on it with all of you readers out there this year, and it's something I'd like to continue to be able to do.  So, I have started up a more general Gators blog/website that will be launched with in the week, and hope that those of you that have enjoyed my views on Addazio and the Gators will continue reading there.  I'm planning on decking it out with all kinds of cool community features and stuff so you guys can easily argue with me, and each other, since I know how much everyone wants their chance to say their piece of mind as well.  I'll have an announcement up here very shortly with a link to the new website.
And with that, I'll leave this article with this.  For you Gator students out there, if Steve Addazio has taught us anything, it's to never give up on your dreams.  Because if this guy can become the head football coach of a D1 football program, anyone can.