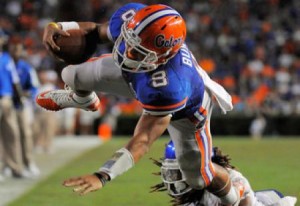 Apologies for the late post here, but it's much easier to procrastinate on making a new post when you're not pissed off at the end of the game for once.  I'll make this quick, so we can get on to a preview of the Alabama game.
There may be no better way for the Gators to get out of a funk than to play against Kentucky, and that was no different this year.  After putting up 31 1st quarter points on the Wildcats last year, we put up a just as impressive (when you consider the struggles our offense has been through the rest of the year) 14 points in the 1st quarter this year, eclipsing our previous combined total for the year by….14.  It was nice to see the Gator offense finally make some of the changes we've all been harping on all season.
The big story of the game was of course, Trey Burton, who changed his number and then scored six touchdowns to ensure that anyone who purchased a Rex Grossman jersey eight years ago was getting the best deal ever (from Grossman to Chad Jackson to Percy as a freshman to Chris Rainey to Dunlap to Burton/Brown).  Pretty crazy what happens when you run dual threat plays with a dual threat QB rather than a pocket passer, huh?
Some other good things to come out of the game were an actual passing play out of the I-formation, bringing our run predictability out of that formation down from 100% to 99.5% and some more work for Moody and Gillislee (even though Demps' injury was a part of that), and Andre Debose finally getting some good work.  Brantley also had his best game of the year (even though it's a bit scary that a 7.1ypa is our season's best), particularly on 3rd down where we were able to convert on several 3rd and longs, something we're going to have to be able to continue to do against Bama.
All in all, it's hard to get too pumped up over a throttling of Kentucky, but with the way we started the year against a team like Miami OH we will take what we can get.
Now the real fun begins.  We get Alabama, LSU, and a rejuvenated Mississippi State team in the next three weeks.  It's time to see if the offense can turn the corner or if we're going to suffer some bigtime setbacks against our first real defensive matchups of the year.