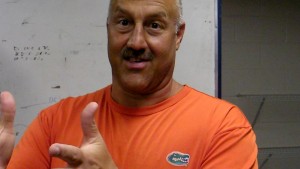 I'm going to make this post short and sweet.  Here are some more quotes from Steve Addazio on Tuesday following the LSU game.
"I feel great about my guys," Addazio said Tuesday. "I don't think Mike Pouncey has ever played any better than he's playing right now. I don't think Marcus Gilbert has ever played any better than he's playing right now."
Do I really need to even comment on this?  Come on man, it's time to get back to reality.
Gatorsports went on to say that without the threat of a big play, defenses will continue to bring more pressure to disrupt Florida's non-threatening offense.
Yeah, no kidding.  That's what we on this site have been saying for two friggin' months now.  If only these credible sources had the gall to say this stuff when we still had a chance to correct it, like I did earlier this year, rather than waiting for us to drop a couple games to jump on the bandwagon of problems that have been there the whole time.
Anyway, here's Addazio's most recent quote about it.
"We've got to find a way to get some more explosives in there"
Really?  That's what you've got for us on that front Steve?  We've got to find a way?  Here's a clue.  THROW THE BALL DOWNFIELD.  In case you've forgotten, you're the guy calling the plays Steve.  If you want big plays down field, you have to call them.  Running the HB dive 80 times until someone breaks one is not the answer, and I can guarantee you that a Brantley option to the short side of the field surely isn't going to bring you one against a real defense.
Anyway, we've got another great quote from one of our recruits here.  When asked about the boos in the 4th quarter of the LSU game, Leroy Pittman responded…
"They felt the play-calling was not good," he said. "It just shows the fans want to see more excitement from the offense. You can't advertise great speed and talent, but never throw deep or have any long runs and not expect the viewers to have question and concern and frustration."
It's pretty said that a 17 year old incoming recruit seems to have a better grasp over what this offense needs than our offensive coordinator does.