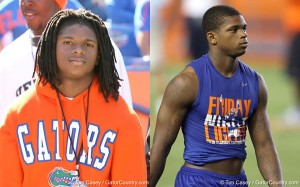 You think things are bad now, where Addazio's conservative, predictable play calling is turning a team loaded with talent into one of the weakest offenses in the country?  Imagine if we didn't have the talent, and we actually had to rely on our offensive coordinator to help our offense move the ball by himself.
Sadly, that may be where we're heading if we don't make a change soon, as it appears that it's not just us on this site that disapprove of the way Addazio runs his offense, but our potential future players as well.
4-star running back Mike Bellamy, once the Gators top priority at running back, left at halftime of the LSU game because, as he put it, the Gator offense was boring.
Massive wide receiver Kelvin Benjamin said that he expected us to throw the ball downfield more.  Apparently he hasn't watched us play before.
Incoming commit at wide receiver, Latroy Pittman, said that he discussed the Gators struggles on offense with multiple other potential recruits during the LSU game as well.  He went on to explicitly say that the play calling was a problem.
And really, who can blame these guys?  Florida ranks 11th out of 12 in the SEC in total offense, and 96th nationally.  Why would these want to come play for a coach that excels in turning NFL talent into forgotten journeymen?  You can read the rest of the quotes here.
Some people have questioned whether or not our offensive talent is really as good as we think it is, but does anyone here believe that our offensive talent is 11th in the SEC and 96th in the nation?  Does anyone actually believe that we have less offensive talent than Vanderbilt, Iowa State, Rutgers, Syracuse, Kentucky, and Kansas?  Of course not.  So what's the difference?  Coaching.  Play calling.  We've all been seeing it for months, now the recruits and the players see it too.  It seems the only people yet to see it are Meyer and Foley.
Now, before I finish up this post, I want to play a little game.  Below I've embedded a video sent in by one of our readers at the LSU game this week.  What I want you to do, is before looking down below the video to see the answer, watch the video take a guess as to what point in the game it was when this video was shot.  Here it is…
Ok, now take a guess.  When was this?
It looks like some random, calm moment during the 2nd quarter, maybe right before half time or something when everyone is just letting the clock run out before going to the locker room, right?
Bzzzz.  Wrong.  Believe it or not, this video was shot right after the first drive of the second half.  You know, the one where Florida once again failed to score any points after having 2nd and goal from the 1 yard line.  The one where 2nd and goal from the 1 turned into 2nd and goal from the 16 after back to back penalties.  The one where they wasted yet another timeout that nothing came of.
So after that, with all the issues we've had with coming away with no points from down inside the 5, with the bad penalties that you just can't take in that situation, you figure Addazio's gonna get in their face, right?  Maybe coach 'em up a little bit?
Nah, they're just hanging out, sitting around watching the game.  And of course, Brantley is once again nowhere to be found in the picture, because why would our offensive coordinator ever talk to our quarterback?
That video says it all.