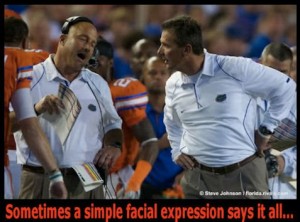 I've received requests from several of this site's readers to use my position here to try and organize a more united campaign towards our cause.  Everyone wants to know what they can do to help.
Honestly, after that 3-game stretch in the middle of the season, I didn't think something like this would even be necessary.  It seemed like it was only a matter of time before Addazio was replaced.  It seemed it was imminent.  How could it not be?  At that point, Addazio's faults, which may have been hidden to more casual fans early on, were too obvious for him to continue on for long.
Even if his friendship bond with Urban was strong enough to save his job, surely Addazio himself would recognize he was in over his head and step down, right?  Even Texas OC Greg Davis stepped down after Texas had similar struggles on offense this year, and he had put together many good Texas offenses in the past.  Yet Addazio, who has proven nothing as an OC other than the face that he can't do it, refuses to do the same for the betterment of the players around him.
So here we are, several months and several embarrassing losses later, with the same guy running our laughable attempt at an offense, and the with the coach saying he'll be doing it again next year.  It's entirely possible that Urban is just saying the right thing and that Addazio will be removed or demoted after the Outback Bowl.  It's entirely possible that all the Dana Holgorson rumors are true.
But it's not worth the risk of doing nothing.  That's why, starting now, we're going to go ahead and start the "Save 2011" Campaign, with the simple notion that we can not go into next season with Steve Addazio as our offensive coordinator.
Each week or so (some of these things will last more than a week), we'll do something different, as a group, to help further our cause.
We start this week with a very simple two-part task.  Sign a petition, and promote it.
I know, not very exciting.  But we'll be using this next week, so we need to get some names on it first.  Please note that this is a NEW petition, so even if you signed the original one that went up, take the time to do it again here.  I put the original petition up on PetitionSpot, which requires people to sign up for a PS account or a facebook account to sign it.  In retrospect, that was a bad idea, as lazy folks just want to type their name in and be done with it.  So that's what this new petition will allow you to do.  No creating an account or anything necessary, just sign away.
So here's what I'm asking you all to do this week.
1. Sign the petition here (I've also updated the link at the top of the page for the new URL)
2. Spread the word about the petition.  Tweet it to people, mention it on facebook, do whatever viral stuff you can think of.  Throw up some flyers around campus if you can or mention it when your class gathers for your final.  People will sign the petition.  Most Gator fans agree with it, it's just a matter of them knowing that it exists.
P.S. Thanks facebook user Jimmy for the image used in this week's post.