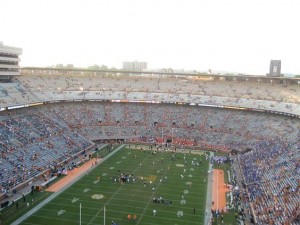 In my long history as a Gator fan, Knoxville is one of the few road games I've never been to, until this week.  Tailgating there is completely different than Gainesville.  In Gainesville if you see a patch of grass it's pretty much fair game, just pull your car up off the road, set up your tailgating gear, and get to drinking.  In Knoxville though these spots are off limits, and you have to actually tailgate in parking lots for the most part.
Anyway, as I was walking through the crowded Calhoun's to make my way to the bathroom, I came across several groups of Gator fans complaining about the offensive playcalling.  Of course, I directed them here to firesteveaddazio.com, so if you're one of those folks and you're reading this, this is my shout out to you.
The Gators 1st half offensive ineptitude continued again this week.  During our trip to Knoxville, we really didn't hear much trash-talk from Tennessee fans.  Tennessee is a bad team this year, and even their fans know it.  As such, this should have been an easy win for us, but again we found ourselves struggling early.  Urban really bailed out Addazio in the 3rd quarter.  After Tennessee tied the game at 10-10, it was up to our offense to quell Tennessee's momentum and take back control of the game.  We did that by going 3 and out, and lining up to punt.  This is where Urban really bailed Addazio out, as the fake punt that we ran to not only pick up the first down, but move deep into Tennessee territory, is what really turned the tide of the game back in our favor.
It seemed like after this Addazio finally realized that we could have success throwing the ball against Tennessee, and opened things up a bit.  It only took two and a half quarters of wasted runs up the middle to figure it out, which is actually an improvement based on what we normally see out of the play calling.
At the end of the day, Demps finished with 26 carries for 73 yards for a whopping 2.3 yards per carry.  Gotta stick with that, right Addazio?  As a team, we averaged 3.1 ypc, but still ran the ball twice as often as we passed.
I understand that the defense was playing well and we were trying to prevent the offense from giving the game away, but that's the problem.  We can't beat the good teams (especially not Alabama, twice, which is what we're going to have to do) by just putting the whole game on the back of our defense.  We don't even know how good the defense really is yet, since we've only played against bad offenses.  This is Florida.  The goal of our offense should be to score points, not to avoid disaster.  Our offense needs to help us win games, not make sure we don't lose them.  We tried this last year and we saw what happened when we needed our offense to step up for us.  They couldn't, and we got creamed by Alabama.  And that was with Tim Tebow, a luxury that we don't have this year.
We get Kentucky next and then things really kick off with Alabama, LSU, MSU, and Georgia after that.  We're going to need some help from our offense at some point in that stretch, let's hope that we can things straightened out by then.