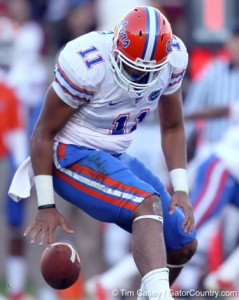 I'd like to start this (lengthy) post by apologizing for my absence over the last two weeks.  As I mentioned in the post below, I've been traveling and have had more problem getting to a reliable internet connection than I thought I would.  I assure you, my motivation for helping to fix the Gators problems is as strong as ever, and will remain that way until they are actually fixed, including through the offseason (which at this point, it will clearly take).
So, let's talk about the last few weeks.  The Florida Gators are abysmal, and the offense is worst of all.  The defense is not good, but neither is Auburn's, and they are undefeated.  A major part of that is that Auburn has adapted their offense to work with their bad defense, while Steve Addazio continues to call ultra conservative plays on offense as if he's playing with the nation's best defense that will win the game for him.  Even last year, when we actually had that defense, it wasn't a good philosophy (and it ended up costing us in the end).  Now, with the defense we have, it is inexplicable to think that someone in the world believes it is our best chance to win.  We ran the ball 46 times against FSU, compared to 16 passes, in a 31-7 loss.  That is just unheard of.  But then again, no one ever said that brains were Steve Addazio's best attribute.  Clearly, his best attribute is his ability to exploit personal relationships.
And I'll get to the other end of that personal relationship, Urban Meyer, later in this article.
But first, let's continue to reflect on Addazio.  When Robert Clark caught that 20 yard touchdown pass early in the 1st quarter we were given a glimmer of hope.  But the real amazing thing about that, is that that single 20 yard catch alone would ultimately make Clark the Gators' second leading receiver in the game, and account for almost a third of the Gators' receiving yards for the game.  For anyone else, that may seem crazy,  but for this offense, it's completely believable.
The Gators' lone score of the game came on a drive that started at Florida State's 32 yard line after yet another long return by Andre Debose.  Yeah, the same Andre Debose that Addazio doesn't believe is "ready" to contribute on offense.  Maybe he's right though, because at this point having a guy be fresh for special teams may be our best chance of scoring.
Just how bad are things?  Sadly, even our paltry 7-5 record makes us look better than we are.  Our best win is an overtime win against a 6-6 Georgia team.  Our next best win is Tennessee.  The same Tennessee team that went into double overtime with mighty UAB.  In our only games against competent defenses this year, our offense scored 6 points against Alabama, 21 points against LSU (of which 14 were set up by turnovers deep in LSU territory, so 7 points that can be legitimately attributed to the offense), 7 points against Mississippi State, 7 points (in garbage time) against South Carolina, and 7 points against FSU.  That is not bad, that is putrid.
At this point, we're likely looking at a bowl game against the coach that we (deservedly) ran out of town a few years ago, despite Illinois not having a fourth as much recruiting prestige as UF.
At this point, Urban has said that the three QB system may be abandoned for the bowl game.  Wait, you mean that multi-QB systems are not a good thing, and always end poorly?  Hmmm, I feel like I've heard that somewhere before.  After the Vanderbilt game, when every other Gators site (and major sports site) was saying that the 3-qb system had saved the Gators offense, and when Steve Addazio was being his usual smug self and acting like he had found a solution to throw back in all our "uneducated" faces, I said:
Rotating quarterbacks are always a sign of a struggling offense.  Typically, it teases people with sparks when it is first implemented, but always regresses back to the same struggling offense as before.
The idea of rotating quarterbacks is bad enough.  But when you put a guy like Trey Burton into the game and run the ball every time he lines up at QB, that just makes it even worse.  After the South Carolina shalacking a reporter asked Steve Addazio in his weekly smug hand waving interview if he thought that the defense knew that a run was coming every time Burton or Reed lined up at QB, since they ran every time they took the snap.  Addazio looked baffled.  "No.  No way".  The thought never crossed his mind.  And apparently, that was not coach speak as we saw more of the same against FSU, with Burton running every time he got the ball and Reed running a huge percentage of the time.  But neither I nor the reporter should feel like we're smart people because of these predictions or observations.  You all have been just as accurate with your predictions and observations in the comments sections of this site and in the forums of this site.  Don't let that go to your head though, because that's no major feat either.  And that's the saddest part about this.  This stuff is obvious and easily predictable to everyone that knows a lick about football, yet somehow Steve Addazio still has a job as offensive coordinator.  It's baffling.
The worst is not over.  If anything, Steve Addazio has somehow gotten more predictable as the year has progressed, and defensive coordinators have just had more time to see how easy it is to play defense against these ultra conservative, ultra predictable playcalls.  And according to Urban Meyer, Addazio will be "a part of the process" going forward.
So let's move on to the even bigger picture.  I have rarely mentioned my stance on Urban Meyer here on this site, and I want to get it out in the open.
Let's be honest here, Urban Meyer is not the genius we once thought he was. Urban Meyer is a great recruiter (both in players and in coaches), and generally makes good game decisions.  However, we know now that he requires good coaches around him.  The offense is not Meyer's as much as it is the offense coordinators.  However, lots of coaches have been successful in this capacity, and Urban is one of them.  Should Urban be fired?  No.  He just needs to do his job.
There is one major difference between Urban Meyer and Steve Addazio.  That is that Urban has proven that he can do his job at a high level, Steve Addazio has not.  Let's define their jobs.  Urban's job is to recruit great players and get great assistant coaches.  He has done that in the past.  Meanwhile, Steve Addazio's job is to run an offense, and he has never proven to be anything other than awful at that.  Don't get me wrong, Urban has not done his job this year, but unlike Addazio, we know he's capable of doing it.
So why has Urban failed so miserably this year?  The main failure Urban has had this year has been not getting rid of Steve Addazio.  So why is Addazio still our offensive coordinator when it is so obvious that he is not the man for the job?  The main theory is that it is because Meyer and Addazio are friends.  My theory, and it is not one that I thought up on my own, is that Urban feels that he "owes" Addazio after Addazio "had his back" and "held" the team together while Urban was in bad health.  It's all metaphysical, intangible stuff that doesn't translate to the football field in any way other than losses.
I understand that Urban is in a difficult position, but I don't care. If Urban were a restaurant  manager making 40k a year that would be one thing, but he's not.  He's the head football coach of the Florida Gators, making 4+ million dollars per year.  Making tough decisions is part of the job description.  What person that makes multiple millions of dollars per year doesn't have to make tough decisions?  There isn't one.  Every rich business man, rich  investor, or rich anything has to sacrifice personal relationship with co-workers to do their job.  Urban, I beg of you, you are paid a lot of money to make the University of Florida football program as good as it can possibly be.  Clearly, Steve Addazio running the offense is not the best way to achieve that goal, so please do your job and remove that responsibility from him.
For what it's worth, I believe that Urban's scary quote after the South Carolina loss that said Steve Addazio would "continue to  be part of Florida's plans going forward" was intentionally cryptic enough to allow him to demote Steve Addazio this offseason (rather than fire him), and I do believe that is exactly what will happen.  I can't help but think this entire year has been a waste though, as clearly I and many of the readers of this site saw that was necessary a long time ago and our foresight could possibly have saved a season that people being paid absurd amounts of money could not.
Urban Meyer returned us to our status as a national power and I appreciate everything he has done for it.  I am not a spoiled fan who expects a national championship every year.  I simply expect our head coach to do what is best for our program, and not to do what is best for one guy who clearly believes that exploiting a friendship and exploiting young player's careers is worth a large paycheck.  All I ask of Urban Meyer is that he do the job he is being paid to do, and there is no one in Gator Nation that believes that step 1A of that job isn't firing or demoting Steve Addazio.
With that said, I'm going to sign off for the night.  Up next (later this week hopefully), will be the extremely difficult task (since there are so many to choose from) of ranking Steve Addazio's faults, in order.  At the start of this year I ranked the 5 worst things about Steve Addazio.  So now with the regular season complete it will be interesting to see where those same faults lie on the list.