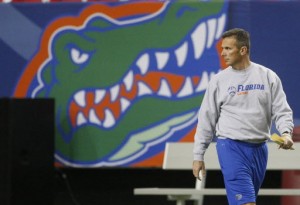 In a somewhat shocking announcement, Urban Meyer is once again stepping down from his head coaching duties at UF.
On the one hand, it is surprising because we just went through this last year, and it would seem that making such a large decision (calling off a retirement) would involve a decision to be in it for the long haul, a la Billy Donovan reneging on his decision to leave for the NBA.
On the other hand, I don't think any of us are too terribly surprised as it seemed pretty clear this year that Urban's heart was no longer in it.  I thought that maybe if Addazio was removed and Urban no longer had to struggle between the decision of what is right for his friendship and what is right for UF, he would regain his fire, but it looks like we'll never know.
Urban has done a lot for UF, and will be missed, but now begins the process of looking forward and step one of that is finding a replacement suitable for the lofty expectations of this program.  Meyer's decision comes earlier this year than it did last year, so there is time to replace him with a full fledged head coach rather than an interim fix.  I can't imagine that that new coach will have any interest in keeping Addazio around.  And in the name of all that is holy in this world if Steve Addazio somehow replaces Urban (unlikely) we will be wishing for a 7-5 season.
Meyer will stay on through the bowl game.  He notes his desire to focus on his family as the main reason for his resignation.