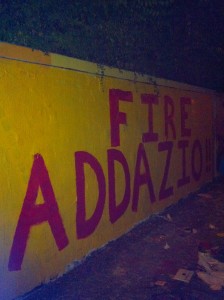 The Gators finally got back into the win column on Saturday, and since I'm sure Steve Addazio is too busy patting himself on the back to break down the game, we're going to do it here for you.
The good news is that an Addazio led offense gained 400 total yards against an SEC team not named Kentucky for the first time in his tenure.  The bad news is that it came against a porous Georgia defense, and that there was still a lot of things that were done poorly, and are predictive of more future problems on offense, and losses for the team.
Let's start with Addazio's new wrinkle.  No, it wasn't the '3-qb system' that CBS kept harping on (newsflash CBS, this wasn't the first time that Jordan Reed and Trey Burton lined up at quarterback for us).  You remember how in at least every big game, and in almost every week, Dan Mullen would roll out a new play or formation that eventually would become a staple in the offense?  First, it was the Bubba Caldwell option reverse, then it was the shovel pass, and it went on from there.  Well, Addazio finally joined that club today and came up with something new, and it was half a good idea to boot.
I've said all along that if Trey Burton is going to be able to run the ball for us against good teams, he's going to have to throw the ball a bit to keep the defenses honest.  Since Addazio is completely terrified of any measure of risk, it seems he's not willing to do that.  Instead, he came up with the idea of having Burton line up at QB, and then walk up to the line of scrimmage like he was calling out protection schemes, while John Brantley slips into the backfield and takes the snap.  The idea is decent.  The defense sees Burton at QB and expects a run, but then at the last second Brantley runs back there and lines up to throw the ball.  The problem is that Addazio just couldn't quite come up with a whole good play without doing something stupid with it.  So, we now have the defense fooled, thinking run, with the box stacked, but have the ball in our passer's hands.  So what do we do?  Throw a short, quick pass right into the heart of where the box is stacked to stop the run.
What's the point?  We go through all this effort to get a team to commit to the line of scrimmage, then trick them by throwing right at that spot?  That play should have been designed to go downfield, that's the only way it makes sense.
Speaking of downfield (which you all know I've been harping on all year), that's something the Gators finally did a couple times in this game.  The first time it didn't work out as Hines gave up on his route (probably because he thought we would never actually throw it down there), but after that it worked beautifully.  The throw down the sidelines to a well covered Donte Thompson is exactly what I've been talking about all year when I say he needs to use players to their strengths.  Deonte Thompson does not have good hands, so why have we spent the whole season using him in basically a possession receiver role?  That's not what he excels at.  He's a playmaker.  He's not going to reliably catch a bunch of 10 yard ins consistently, but he can make plays when you put him in position to do it.  And on that play, he was covered, but Brantley finally gave him a chance to make a play, and it paid off in spades.  The funny part is that when Brantley threw that pass, Addazio (before he saw the result) probably wished he had checked down to another 2 yard hitch on 3rd and long instead.
So finally, for the first time in months, we got to see the reward end of a risk/reward play.  One of the biggest problems with our offense is that with our refusal to stretch the field, plays that are normally "safe" plays become risky plays because the defense plays them aggressively, only they don't have the reward to go with them.  In Addazio's never ending desire to play safe, he has only created more risk.  Instead of "risk/reward" plays, they're "risk/modest gain" plays.  It was nice to see that change, even if it was only for a few brief minutes.
On the next drive, we saw it again, as Brantley connected deep downfield for a long touchdown to Jeff Demps on a wheel route.  Finally, a long passing play.  Maybe things were starting to look up, if only a little bit.
Then, the second half, and the introduction of the prevent offense and more horror.  In 2009, Florida returned all 11 starters from the #1 defense in the country.  Apparently, Addazio did not get the memo that we no longer have that defense in 2010.  Our defense is solid, yet mediocre.  But Addazio called his plays in the 2nd half like we were up by five scores, not two, to the extreme extent of lining up Burton at QB and running the ball on 3rd and 7 and 4th and 12 (which came after an attempt to complete a 3 yard hitch on 3rd and 12 to boot).
There was some debate as to whether the 4th and 12 run was actually supposed to be an option pass that just blew up when Burton thought he saw an opening and took off the other way (for 1 yard), but that's even worse.  If you're going to run a trick passing play, you can't run it in an obvious passing situation.  It's the same reason that everyone knew the jump pass was coming in the Alabama game, because it was 4th down.  If it was first down or second down, no one would have been ready for it.  Same story here.  Why does he think an option pass is going to fool anyone on 4th and 12?  The defense can play pass D and still have plenty of room to stop both the run and the pass.
Later in the game, at the end of regulation, we got to see how much faith our coaches have in the offense they've created.  After Brantley's near interception with under a minute left, the Gators elected to take a knee on their own 40 yard line with enough time to run 3 plays to get us into field goal range.  That's right, the mighty Florida Gators would rather take a knee then try to win the game in the last 25 seconds from the 40 yard line.  Think about that for a second, and then consider that later that same night, the Oregon Ducks decided to try and score after getting the ball at their own 5 yard line with a minute left in the half, and nearly did it.  Yet we have so little faith in our offense that even starting at the 40, we'd rather just sit on the ball.
Am I the only one that cringed when Will Hill stepped out of bounds inside the 5 yard line in overtime?  Normally, an interception in overtime means virtually an automatic win, but I knew that with our offense, it was a toss-up.  And, they did not disappoint, going 3 and out with yet another questionable 3rd down play call.  Again we lined Burton up at QB on 3rd and long, only this time we brought with him the incredible trickery of throwing a swing pass to the short side of the field with no room for Demps to do anything.  As expected, no one was fooled.  The really sad part here is that the two wasted possessions where we just ran Burton on 3rd/4th and long were probably put in to set up exactly this play.  Addazio probably thinks he's some kind of super genius who would give away two possessions to have this awesome ace in the hole later on.
So, we escaped Jacksonville with a win, which is great.  We saw a few small glimmers of hope on offense, surrounded by more heaps of bad play calling and philosophy.  The offensive line didn't really improve at all, and many of the issues in this game were with guys coming through unblocked after simple stunts or delayed blitzes.  5 guys rushing and 6 blocking (counting the RB), yet guys still came through untouched.  That's a scheme issue, too bad our O-line coach is too busy designing creative ways for Brantley to throw a 2 yard drag route to fix it.
It was nice to see Chas Henry finish as the hero.  He's taken a beating for not doing well at a job he was never supposed to do, which has completely overshadowed just how good at the job he actually is supposed to be doing (punting).  It was a beautiful punt by Henry that set us up with a chance to win it at the end of regulation (if our offense had enough confidence not to just sit on the ball) as well.